MMM..mmm....mmmmmmmmm.
This is probably one of the things I make that my mom loves most.. It's super comfort food.... with chunks of sweet apples and pears.. and tart cranberries here and there..
YuM
! I think the part she loves most of all though, is the sweet, crunchy, topping made of oatmeal and crushed, candied pecans... I am almost tempted to make this tonight! :)
Grandma Approves... SO EAT IT!!!
Fresh from the oven.. all warm and gooey!..... and look.. It's
SOOOO
*pretty*!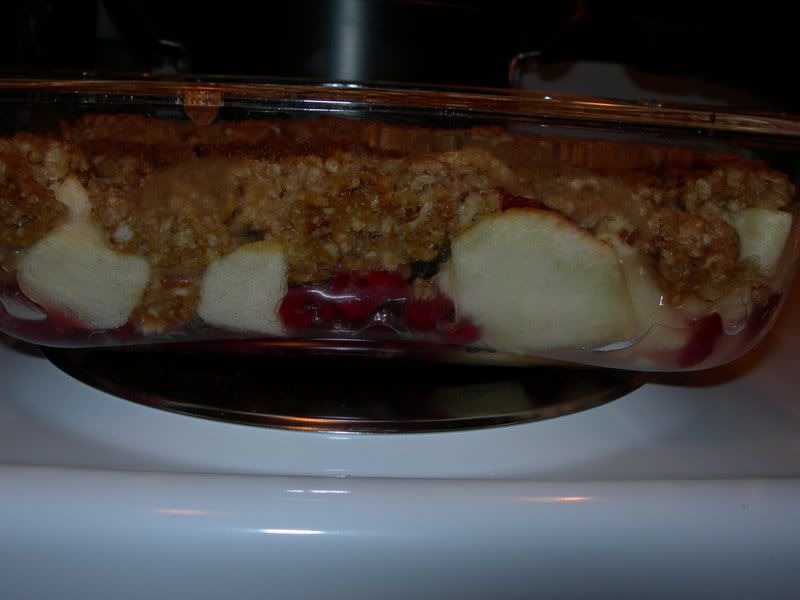 It's like a stained glass window of love....
hahaha
..
ok
.. I swear I didn't put drugs in my batch.. :)
Ingredients-
About 2 or 3 Apples (I use

Fuji

, or pink ladies)

About 2 pears (I doubt it matters which you use

:)

)

2

tblspns

honey (or more or less depending on taste)

About 1/2 c. cranberries (dried ...

craisins

)

1/4 c. crushed pecans (or another kind of nut.. but these are perfect with this)

1/2 c. quick cooking oats

About 2

tblspns

lemon juice
Directions
Turn your oven on ... and set to 375

dgrs

....
Grease your pan (my pan was an 8x8)
Peel and cut your apples and pears up into chunks. (Toss them into a bowl with a bit of lemon juice to keep them from browning until it's time to use them. )
In a big bowl, mix the cranberries, pears, and apples with the 1

tblspn

flour, lemon juice, and honey.
Plop mixture into glass pan.
Now mix your brown sugar, oats, pecans, 1/2 c. flour, and butter in another bowl.

Sprinkle

your "dough"-

ish

topping over your fruit mix.
Throw that in the oven and bake for about 40-45 min or until the top is golden brown on top.
EAT!!! and I mean eat! This is the *BEST* when it's fresh and hot from the oven!
Enjoy it!!!! :)
Mrs. E