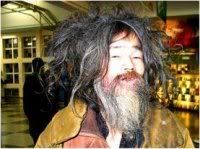 He looks,, how
I
feel.
lol
. Or at least how I've felt the last few days.
I think I have the flu.. ?? But yeah. My weekend was great. The retreat was full up, BUT we made our own and had a great time.. Went to
Raleigh
Saturday night ..
wow
did we come across a BAD accident!! It was about 12 am on 95 when we saw a Jeep flipped on the side of the road. Two people were inside and thank God they both had seat belts on!! It's the only reason they could walk away from that. The girl just had a bad seat belt cut on her chest.. but the guy was banged up pretty bad.. his head had a couple deep gashes.. and his arm had a rather deep cut also... so there was a lot of blood. Rescue team got there quick.. high five to that! Anyways.. glad that they were
ok
.. and glad we didn't end up in the mix.. Alright,, I
REALLY
need to get some work done today
lol
.... So I'm outta here!
--
Steena
<3